Extra Polar Ice Sugar-free Gum (35 ct., 6 pks.)
$21.79

$21.79
Free
Shipping for Limited Time.
---
---
Extra Polar Ice Sugar-free Gum (35 ct., 6 pks.)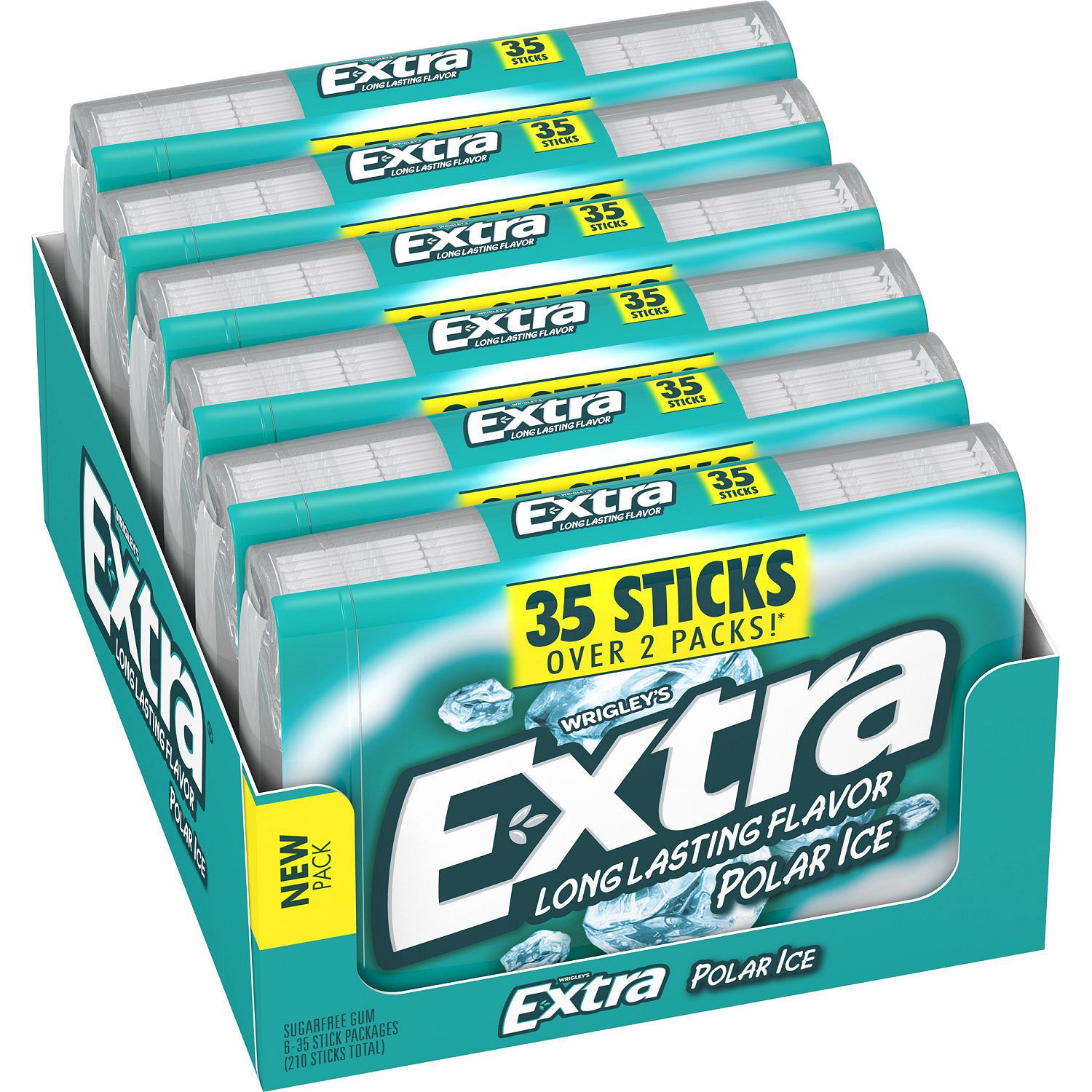 Description
Extra Polar Ice Sugar-free Gum (35 ct., 6 pks.) offers invigorating freshness from head to toe, with long-lasting flavor that will keep your breath fresher longer with this multipack of two-pack bundles. These packs are individually marked for resale, making them great for c-stores and vending. Even if you're just looking to stock up on your favorite gum, this multipack delivers more.
How Long Will This Pack Last?
This mega pack of Extra sugar-free gum offers more than 300 sticks of gum in six convenient packs. That will provide more than 10 times the chewing power of a single pack, making sure that you're stocked for a long time. The larger pack is also great for vending, fundraisers, concession stands and convenience stores that want to get more for their money with their resale products.
Is this Gum Healthy?
Extra Polar Ice Sugar-free Gum is about as healthy as gum can get. This gum is flavored with natural flavors and sweeteners and has been accepted by the American Dental Association. It has fewer calories than regular gum, and will give you more enjoyment with less guilt when you choose this minty fresh flavor.
What Is the Difference Between Polar Ice and Extra Mint Gum?
Extra Polar Ice Sugar-free Gum is a much stronger mint flavor than the traditional mint. It offers a bolder mint and a longer-lasting flavor than many similar gums on the market, as well. It essentially comes down to how much mint you want. For powerful freshness that lasts, Polar Ice is the ideal choice.
What Other Extra Gum Flavors are Available?
Extra gum is available in a variety of minty flavors and more. The most popular are Extra Spearmint gum and Extra Peppermint gum. New flavors on the market include Smooth Mint, Classic Bubble, Sweet Watermelon and Berry Burst. The company is striving to provide sugar-free gum options for everyone, including fruity flavors and unique new options.
Where Can I Buy This Gum?
These Extra Polar Ice multipacks are available in Club only. You can use the online Club locator to see where you can pick up this economy pack of minty gum in a store near you.
Features:
Extra chewing gum is always sugar-free
Display pack for resale
Bold, invigorating flavor and freshness
Product Details:
---