Member's Mark 7-10 Gallon Commercial Trash Bags (10 rolls of 100 ct., total of 1000 ct.)
$32.44

$32.44

Save $4.87
Free
Shipping for Limited Time.
---
---
Stock your workplace with Member's Mark™ 7-10 Gallon Commercial Trash Bags. They're suitable for use in schools, offices, hotels and other commercial establishments where trash needs to be taken out daily. These clear 10-gallon trash bags are designed for commercial use and can be used for light and bulky trash. This pack of trash bags contains ten 100-count rolls, amounting to 1,000 units for long-lasting use.
What Are Member's Mark 7-10 Gallon Commercial Trash Bags?
Capable of holding up to 7-10 gallons of waste in every piece, these bathroom garbage bags from Member's Mark are specially designed for commercial use. This bulk pack is ideal for businesses and commercial establishments such as hotels, schools and offices where light and bulky refuse needs to be taken out regularly. You can use these bags for recycling purposes as well, making them an important addition to a stock of regular janitorial supplies. Each trash bag features a Star Seal Bottom which prevents breakages and leaks, keeping your garbage inside and not allowing it to leak out on to the floors or streets.
Why Choose Member's Mark 7-10 Gallon Commercial Trash Bags?
When you stock up on these mini trash bags, it becomes easier and more efficient for the cleanup process to be carried out in your establishment. These 10-gallon trash bags help ensure that the waste being collected is stored and contained in a single place while also keeping your trash can protected against sticky substances, odors and stains. Each garbage bag is well-equipped to carry both lightweight as well as heavy waste loads so that you don't have to spend separately on low-density and high-density trash bag variants. These bags are eco-friendly and can be used in warehouses and medical facilities as well.
How Many Bags Come in the Member's Mark 7-10 Gallon Commercial Trash Bags Pack?
This pack contains 10 rolls of mini trash bags. Each roll contains 100 individual pieces that can be easily dispensed with the One-by-One dispensing system. The bags come in a clear color and have a capacity of approximately 7-10 gallons.
About Member's Mark
Members Mark is a private label used by the Sam's Club retail chain in the USA. Sam's Club is a membership-only chain that's operated by Walmart. It's among the leaders in warehouse sales in the country. Sam's Club offers a wide range of products to meet a variety of daily requirements.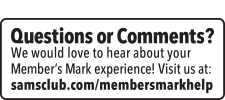 ---