Wrigley's 5 Gum Spearmint Rain Sugar-Free (35 ct., 6 pk.)
$24.99

$24.99
Free
Shipping for Limited Time.
---
---
Wrigley's 5 Gum Spearmint Rain Sugar-Free (35 ct., 6 pk.)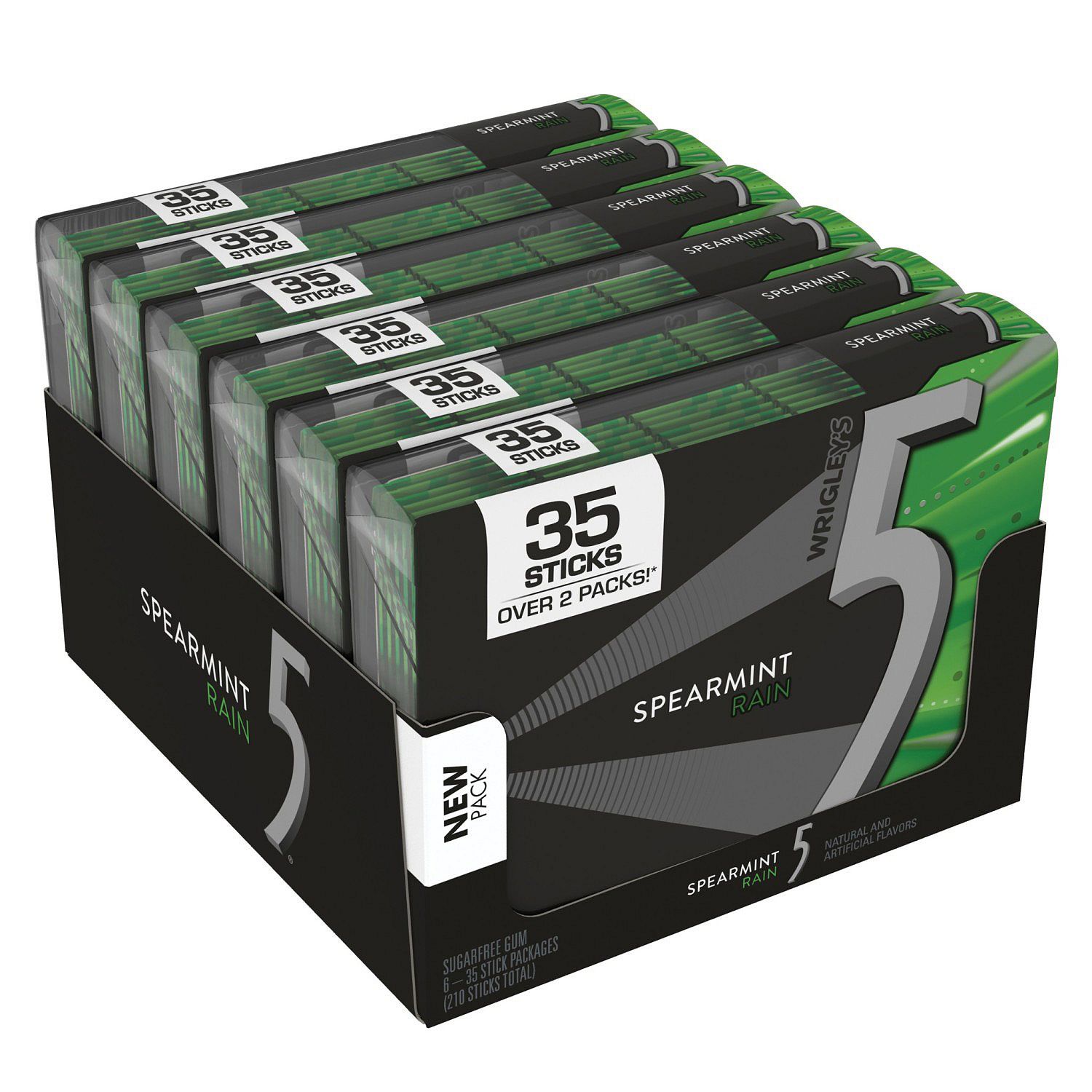 Description
Flavor reigns with 5 Gum® Spearmint Rain Sugar-Free Gum.
Make the Choice
5 Gum Spearmint Rain Sugar-Free Gum offers you the choice of tingling, 5 Gum Spearmint flavor that's long-lasting and delicious. 5 Gum allows for longer lasting flavor because it contains sugar-free ingredients. Sugarless gums lasts longer than sugared gum because the sorbitol and xylitol used to flavor the gum takes a loger time to dissolve in the mouth than sugar. The longer you chew your Spearmint Rain flavor 5 Gum, the more the flavoring of the gum dissolves in your mouth. As the sugar substitutes dissolve, the less they're able to boost the flavor of your 5 Gum. However, these sugar substitutes don't dissolve nearly as fast as the sugar in other, standard sugared gums.
What Is Sorbitol?
Sorbitol is a primary ingredient used in many sugar-free chewing gums, including this 5 Gum. Sorbitol is a low-calorie natural sweetener that's chemically extracted from glucose. Sorbitol has less of an effect on sugar levels, which makes it a great alternative to sugar for diabetics or for people looking to prevent the development of diabetes. Sorbitol also helps food stay moist and provides a natural, mouth-cooling sensation similar to mint.
What are the Benefits of Sugar-Free Gum?
Chewing sugar-free 5 Gum after meals can potentially help you fight off cavities and tooth decay. The reason is that it helps to stimulate the flow of saliva in your mouth, which helps wash away the harmful acids and bacterias released by the sugars from the food and beverages that you've just consumed. The acids and bacterias released by the sugars attempt to wear down the tooth enamel that protects your teeth from tooth decay and cavities. Tooth enamel also protects your teeth from becoming overly sensitive to hot and cold foods and beverages. 5 Gum can potentially help you improve your oral health, when combined with consistent tooth brushing and flossing.
Features:
Tingling Spearmint Rain flavor
Ideal for resale in stores, concessions and vending machines
5 chewing gum that is sugar free
Less calories than sugared gum
Product Details:
---